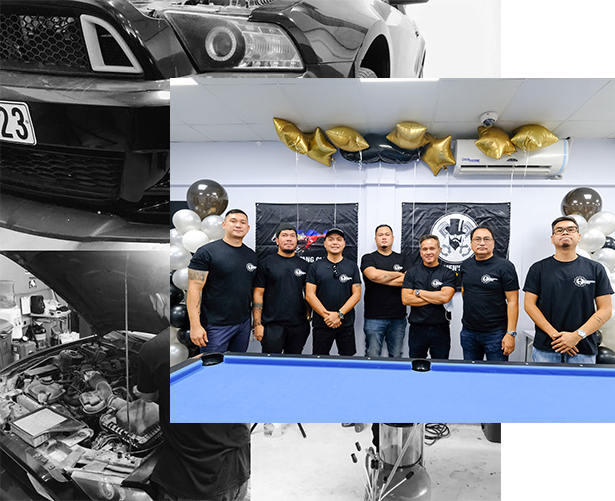 A
Brand

10 Years in the Making
Gentlemen's Garage Auto Services is a team of professionals and highly trained technicians who are driven and passionate about everything that has to do with cars. Our company was established in 2021 and our management and staff has over 10 years of experience in the car maintenance and repair industry in Dubai and has serviced a wide range of car brands and models Dubai has to offer, running along the roads across all emirates in the UAE.
Gentlemen's Garage observes respect to customers and customer's car by making it sure that quality is not compromised as per individual work rendered to customers.
Our main purpose at GENTLEMEN'S GARAGE Auto Services is to provide high quality auto repairs and superior customer service. With a team of professionals and highly trained technicians, our aim is to gain trust and exceeds customers' expectation which is at the heart of our organization, as we give all customers an exceptional experience while having their vehicles serviced by our technical team. We continue to strive to be a leading example in the auto service and repair industry and at the same time support our local community even extending our work across the emirates in the UAE.
Advantages
Advantages
of
Our Service
Auto servicing your car is an essential task that should not be ignored or forgotten.
Get a Quote
Customer-Oriented Service
We value the service we provide and our loyal returning customers can always expect some appreciation from us.
Affordable Prices
Our prices are competitive and our services are really value for money.
High-Quality Car Parts
We only use and install authorized and quality replacement parts
Meet the Team
By working on many makes, our technicians can be trusted to properly
diagnose different repairs
Meet the Team
Our Service
Gallery
These photos will help you learn more about our car service and services provided
Schedule
Need Help With Your Car?
We'll fix it
We specialise in repairing accident damage to vehicles. In fact, we're one of the largest accident damage repair network.
+971-4-5466599